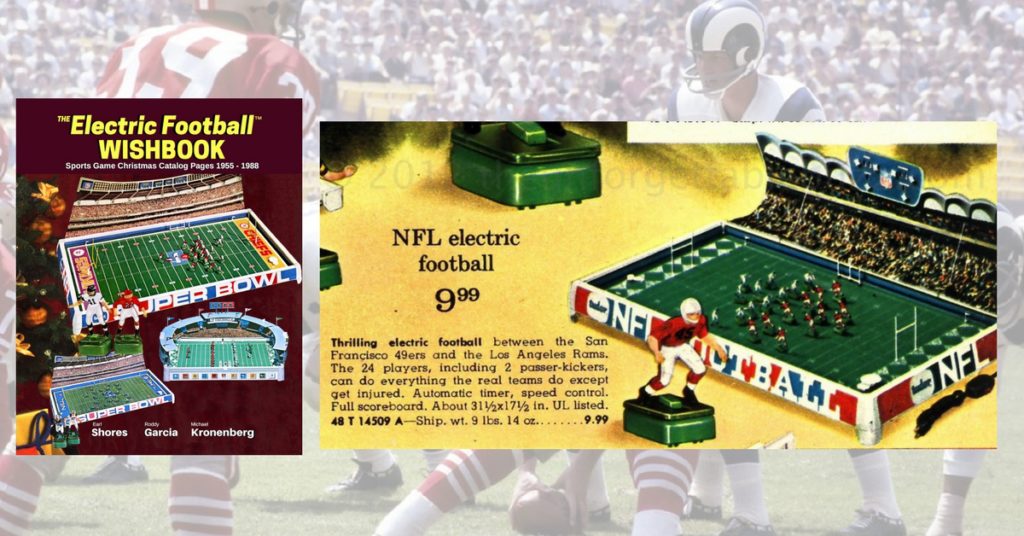 The Rams vs 49ers is one of the oldest rivalries in the NFL. And thanks to the Rams move last season back to Los Angeles, the rivalry feels "right" again. Even if the two teams are struggling to find the winning formula that made this rivalry one of the most intense in the NFL.
1968 Wards-Exclusive Rams vs 49ers
The Rams vs 49ers was of one Tudor's earliest team pairings, being featured on the Montgomery Ward-exclusive NFL Electric Football No. 619 model in the 1968. Ward sold this matchup again in 1969, although some No. 619 models appeared under Christmas trees with the Bears and 49ers on the field that year. A decent pairing for sure, unless you lived on the West Coast.
Our upcoming Electric Football Wishbook includes both the 1968 and the 1969 Montgomery Ward Christmas Catalog pages. In their entirety, and in full color. And they appear side-by-side with their Sears Christmas Catalog counterpart. It's a killer look to have the pages side-by-side. The result is…it's the kind of Christmas catalogs we always wished we had!
We'll keep you posted on the Wishbook. It won't be long now!!