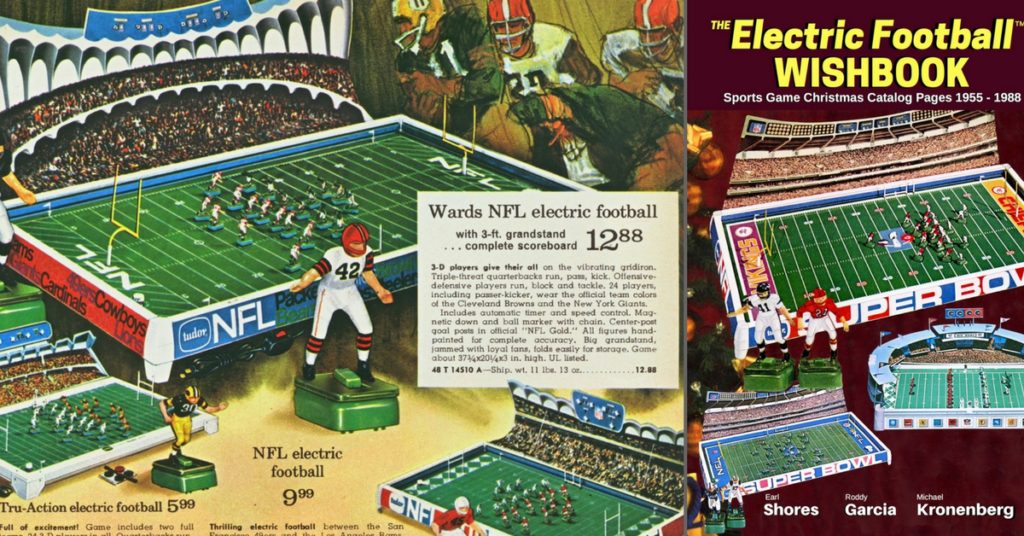 There are so many points in Electric Football history where a change occurred and the path of the game was forever altered. One of the truly momentous changes happened when Electric Football began appearing the in the Christmas catalogs of major mail order retailers in the mid-1950's.
It was 1955 when Electric Football showed up in the Montgomery Ward Christmas Catalog (above), the Sears Christmas Catalog, and also the Spiegel Christmas Catalog. Sears and Ward were both featuring a Gotham Electric Football game.
This happened because of the extensive connections that Gotham Vice President Eddie Gluck had in the toy world. (One of his other connections was that he happened to be a former Tudor employee.)
Spiegel had the Tudor Tru-Action No. 500 in a tiny yet full color illustration. This was the first time Electric Football appeared in color.
Looking at the Ward page from 1955, it really is hard on the eye. The Gotham G-880 game in the top right corner seems to blend right into the page. But it wouldn't be long before Electric Football was promoted to "Featured Toy" status. By the early 1960's major mail-order retailers like Sears, Ward, and JC Penney were all displaying Electric Football prominently on full-color pages (see main image).
Featured In Sears, Ward, Penney and More
Electric Football would remain a Featured Toy in Christmas catalogs for most of the next two decades. By that time, of course, the onslaught of electronic games relegated it — and most all other toys — to the category of "ordinary."
Thankfully in 2017 we still have Electric Football, and it's even still appearing in Christmas catalogs! For those of us who know it best, it has never ceased to be a Featured Toy. And it's something you're going to see throughout our Electric Football Wishbook.
Earl, Roddy, & MK