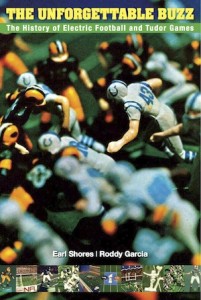 We are so pleased to unveil our new cover today. It was designed by Michael Kronenberg, a graphic designer for Marvel — yes the Marvel!!
In addition to his considerable artistic talents, Michael is a truly dyed-in-the-throwback-wool-jersey electric football guy. He "sees" electric football the way we see it…only better. And he will be using his special "EF Vision" on the interior of The Unforgettable Buzz, as well.  We couldn't have dreamed up a better designer to be working with.
Michael's work and list of credits is impressive. He has written and designed his own book, The Batman Companion, and been involved in the design of a number of Marvel books, includingMarvel Backlist Reading Chronology and Iron Man by Design. He has also done striking design work on Les Paul in His Own Words, andNo Traveler Returns: The Lost Years of Bela Lugosi. And that's just a very, very, very, short list of what he's done.
Michael and I met briefly at the 2000 Electric Football Convention in D.C. through Brian Nixon (thank you Brian!). My memory is a little hazy this far out, but it just goes to show the beauty of these events. You never know who you might meet and just how your paths might cross again somewhere far down the road.
So, we're truly honored to have Michael and his immense talent on board. It's going to be an exciting fall!
Earl