Welcome to The Unforgettable Buzz web site, the undisputed home of Electric Football history. We're also the home of the only books ever written about Electric Football — The Unforgettable Buzz: The History Of Electric Football and Tudor Games (2013), Full Color Electric Football (2015), and our all-new Electric Football Wishbook.
Electric Football Wishbook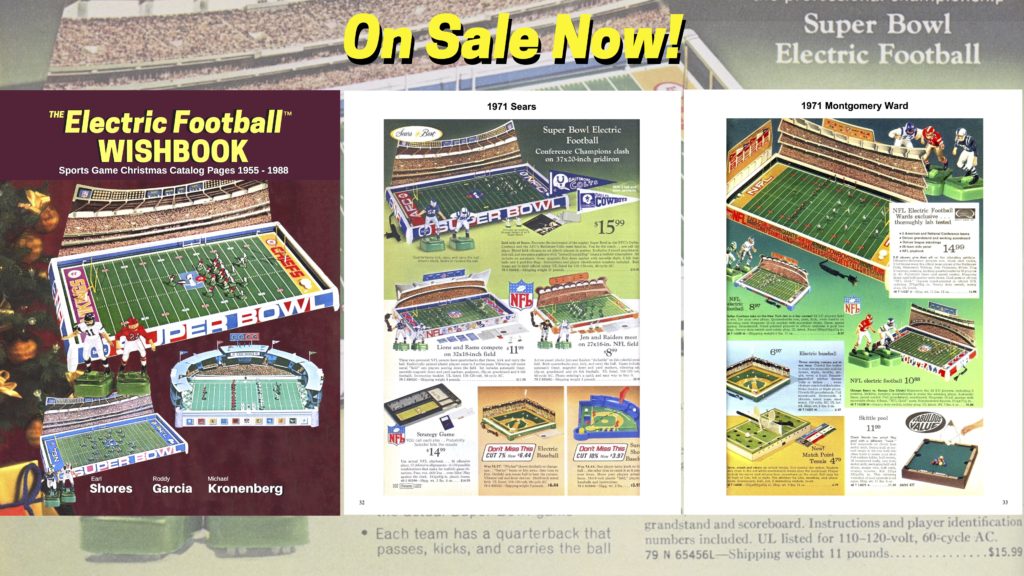 The Electric Football Wishbook is the first-ever compilation of Electric Football and sports game Christmas catalog pages. Packed with more than 70 full page and full color catalog images from the years 1955 to 1988, it's a captivating chronicle of the toy industry's "Golden Age." With over 140 Electric Football games on 70 full page and full color Christmas catalog pages, it's the most intense collection of Electric Football game images ever assembled! It's available now from Amazon.
The Unforgettable Buzz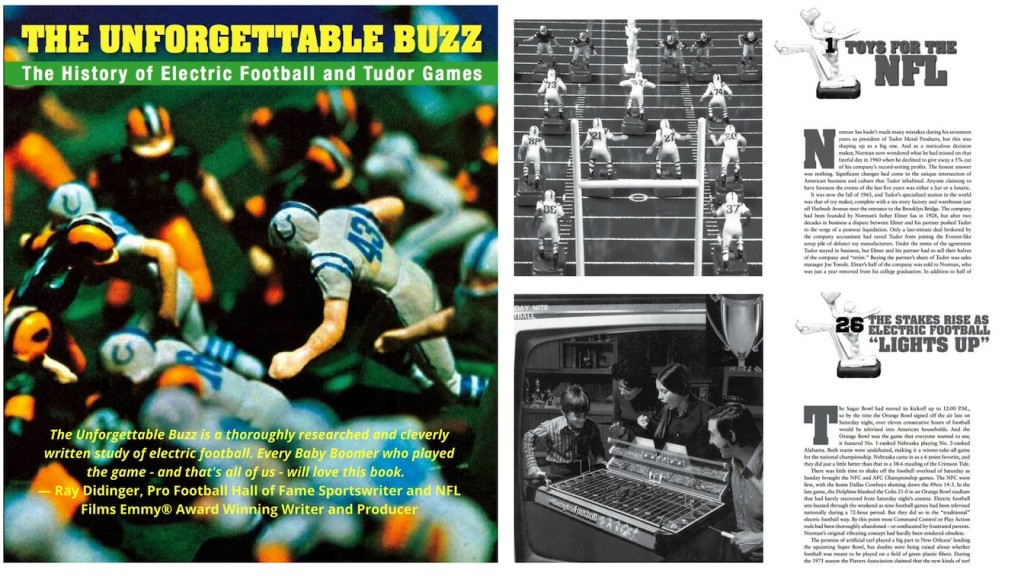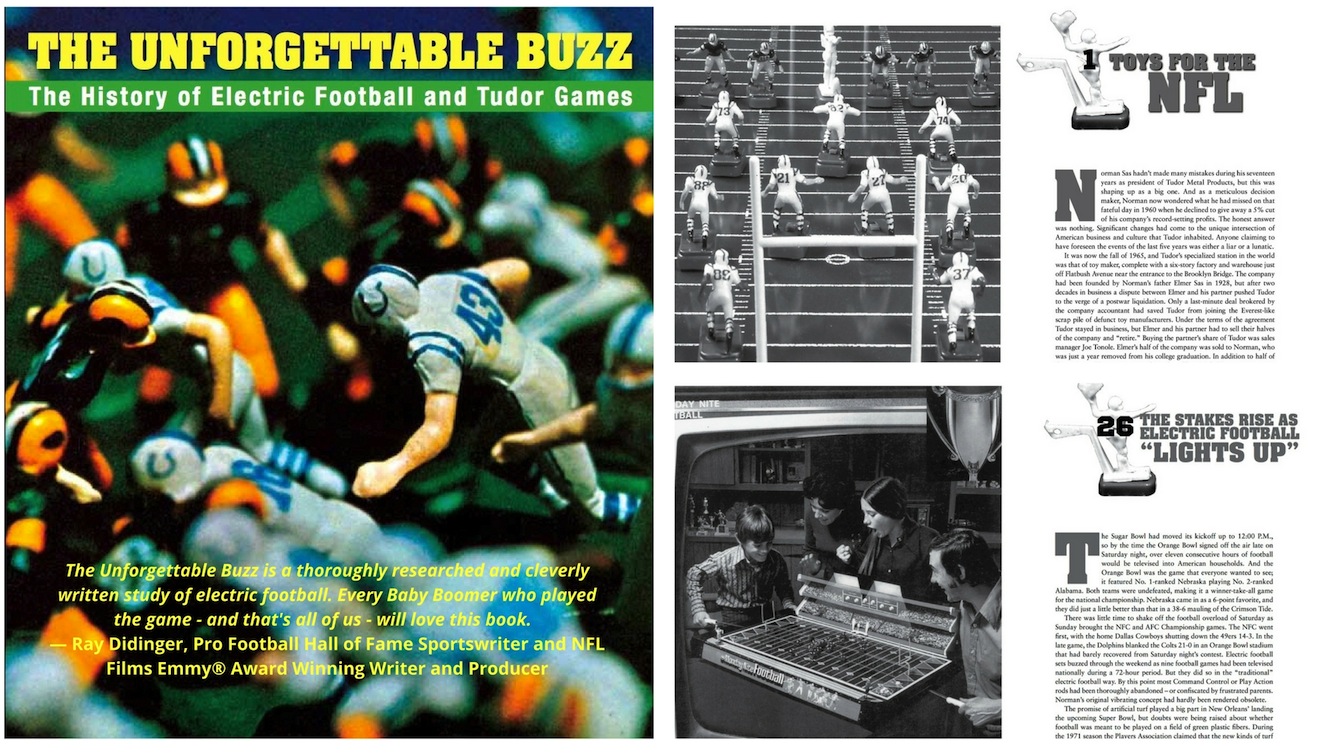 The Unforgettable Buzz is an unparalleled 652-page compendium of the Electric Football story. It's garnered great praise, earning a 4.8 star (out of 5) Amazon rating. It was also used as a textbook by the Devos Sports Business Management Program at the University of Central Florida. So The Unforgettable Buzz is that rare "toy story" with great writing and academic quality research.
Full Color Electric Football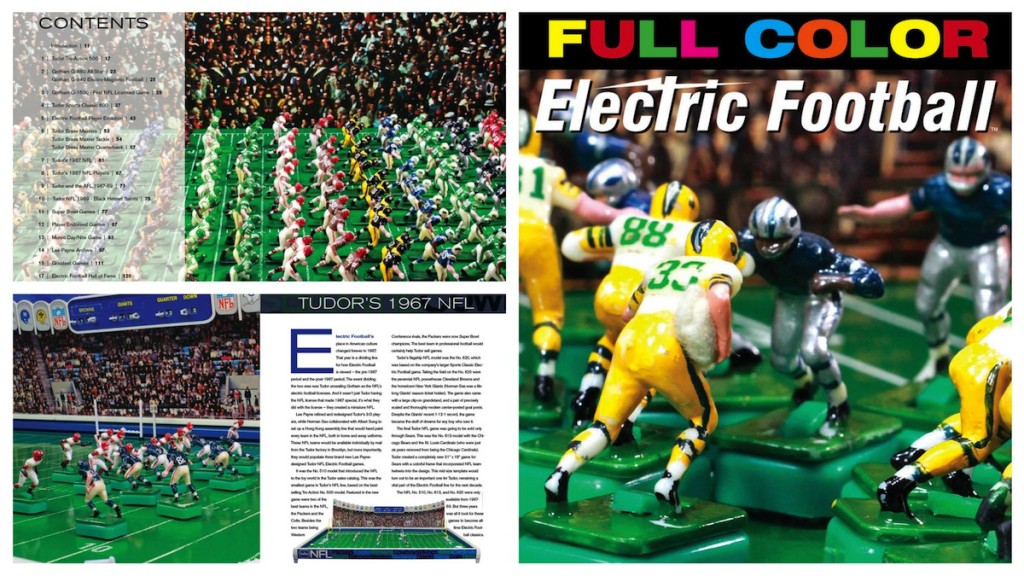 Full Color Electric Football is an epic oversized 8″ x 10″ all-photo journey through the game's very colorful past. Over 250 beautiful images bring your childhood memories to life. As a result, Full Color Electric Football is Christmas morning with every turn of the page. It even earned the No. 3 spot on the 2015 Uni Watch/ESPN Holiday Gift Guide List.
And on our web site you'll find over four years worth of posts and stories. Our Top 20 All-Time Games is a great place to get acquainted with The Unforgettable Buzz. Then tour our extensive Electric Football archive and learn about the game's groundbreaking relationship with the NFL. We guarantee that there is nowhere else like our site on the entire web — or in the entire universe!
Thanks so much for stopping by. And don't hesitate to drop us a line. We love hearing your stories!
Both books can be purchased from Tudor Games or Amazon using the links below. The Kindle version of The Unforgettable Buzz is available from Amazon only.
Buy From Tudor Games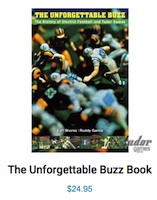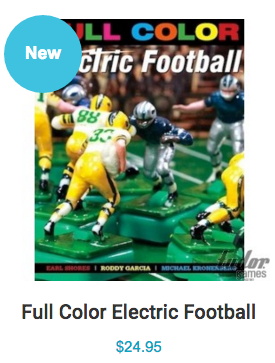 Buy From Amazon