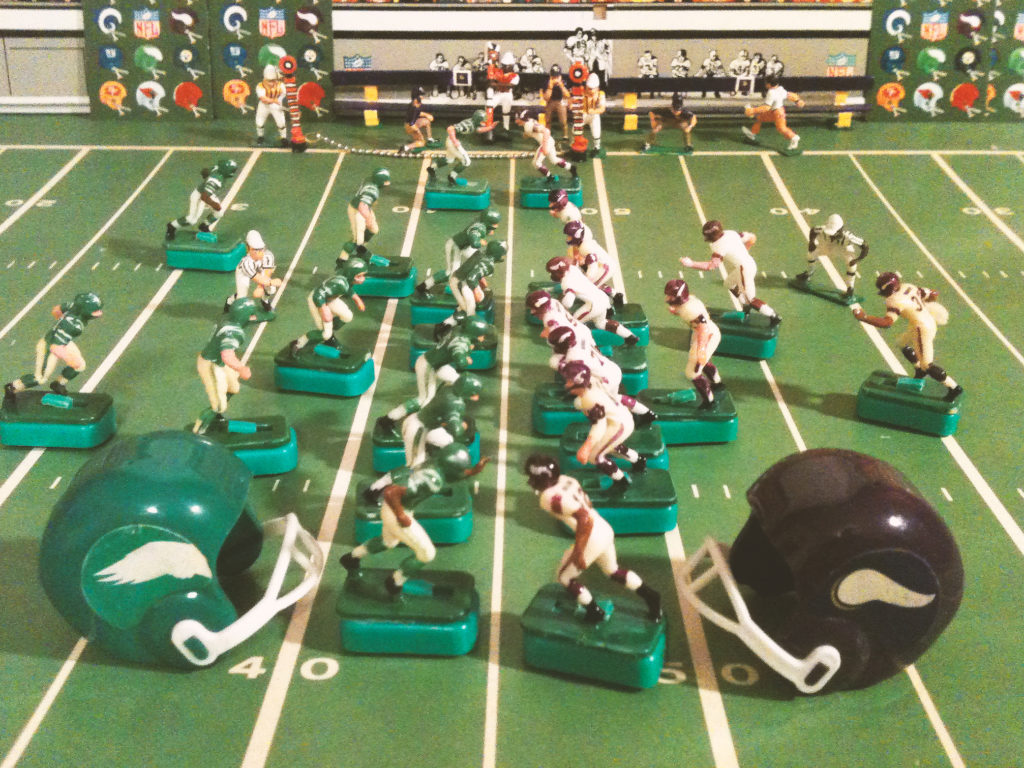 The Philadelphia Inquirer's  preview of the upcoming Eagles-Vikings NFC Championship game would seem to have every angle totally covered. But actually it did miss one thing…
For Roddy and I, it's the first time "our" teams have met for the NFC Championship. Roddy is the lifelong Vikings fan. I'm the lifelong Eagles fan, having grown up not far from Franklin Field. Adding to the drama is my adoption of the Bud Grant-era Vikings as a surrogate team in the late 1960's and early 1970's.
(A young boy had to do something to keep his sporting sanity while suffering with those wretched 1960's Iggles. Yes, I was there for the 1968 Eagles-Vikings game when snowballs where thrown at Santa Claus. It wasn't as evil as its been made out to be…fans were totally frustrated. They'd been yelling "Joe must go" — that is coach Joe Kuharich — for the entire first half, and during the previous games.)
Ghost of Hank Stram
So after almost a quarter century of friendship, we understand each others frustration and fears. We also understand well the frustration and fears of each set of fans. The Vikings playoff history is like some type of tragic Norse Epic Poem. An 0-4 Super Bowl record (and not just losing, but getting demolished in the process), the Drew Pearson push-off (a Divisional game), the Gary Andersen miss, and the Brett Farve interception. It IS a painful list. Have to say that last Sunday's Minneapolis Miracle was long overdue. And as an Eagles' fan, I'm a bit worried that Karma has decided 2018 is pay back year for the Vikings.
Sorry Kansas City, "Big Red" Still Can't Win The Big One
Of course, the Eagles are no slouches in inflicting pain on their fanbase. The last NFL Championship happened in 1960. Before a Vikings team even existed! Add in an 0-2 Super Bowl record, then stir in FIVE Andy Reid era NFC Championship Games appearances with only ONE win. Two of those losses came to teams that had Jake Delahome and Brad Johnson at quarterback. SI even ranked the 2003 Championship loss to the Bucs as the worst in Philadelphia sports history. (At least dating back to the 1983 Sixers NBA title). Oh yeah, let's not forget a nauseated and vomiting Donovan McNabb under center in the 2005 Super Bowl.
What we understand is that this convergence of teams is unlikely to happen again in our lifetimes. And we'll enjoy it and appreciate it whatever the outcome. All the while hoping that each other's team can persevere for a franchise first Super Bowl victory.
Earl