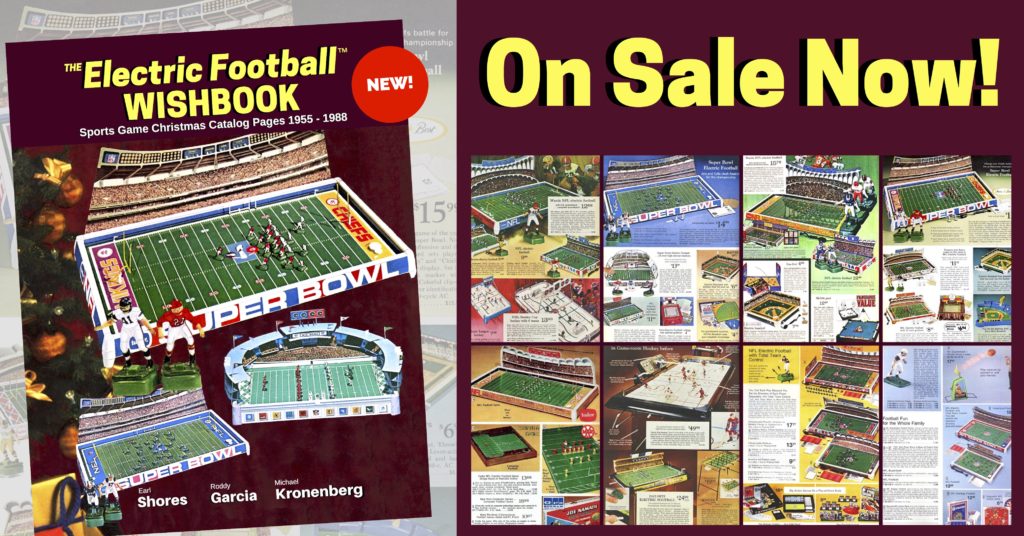 We are proud and pleased to announce that our Electric Football Wishbook is for sale on Amazon!
The book is the first-ever compilation of Electric Football and sports game Christmas catalog pages. Packed with more than 70 full page and full color catalog images from the years 1955 to 1988, it's a captivating chronicle of the toy industry's "Golden Age."
We've included all of the major retailers — Sears, Montgomery Ward, J.C. Penney, Alden's, and more. That means it's Christmas morning over, and over, and over.
More than 140 Electric Football games are in the Wishbook. In addition, there are dozens of hockey, baseball, and basketball games. So you'll never tire of turning its pages because there's always something new to discover.
So do yourself a favor and pick up a copy of the only book where it's ALWAYS Christmas morning!  Or be sure and tell Santa to that you want The Electric Football Wishbook under the tree this Christmas!
Order Your Copy of The Electric Football Wishbook Today!