Set to square off in this Sunday's Pro Football Hall of Fame game in Canton, Ohio are the Colts and the Packers. These NFL teams are obvious choices because of the Hall Of Fame inductions of Brett Favre, as well as former Colts' player Marvin Harrison. In addition, former Colts' coach Tony Dungy is also a 2016 inductee.
This Hall Of Fame Game pairing contains so much NFL history. In the 1960's these teams were bitter rivals who played some epic games. One of those games is the 1965 Western Conference Championship, which we feature in our Full Color Electric Football book.
And this rivalry is why Tudor put the Colts and Packers on their new NFL No. 510 Electric Football game in 1967. They were two of the best teams in the NFL, and would help sell Tudor's brand new line of NFL games. Lee Payne's careful photography also would help sell games (see photo).
The Tudor NFL No. 510 model is a first ballot Electric Football Hall Of Famer
Just like Favre, the Tudor NFL No. 510 is a first ballot inductee into the Hall of Electric Football games. It was a top seller for Tudor, and in addition to the NFL No. 620 game, helped make NFL Electric Football a "featured toy" in the Christmas catalogs of Sears, Montgomery Ward, and JC Penney.
Because the Tudor No. 510 is one of the most noteworthy games in all of Electric Football, we didn't hesitate to put it on the cover of The Unforgettable Buzz in 2013.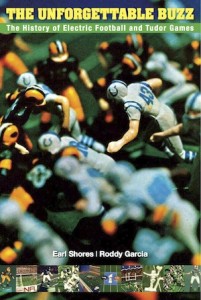 It's truly an Electric Football Hall Of Fame Game.
Not just for 2016, but for all-time!