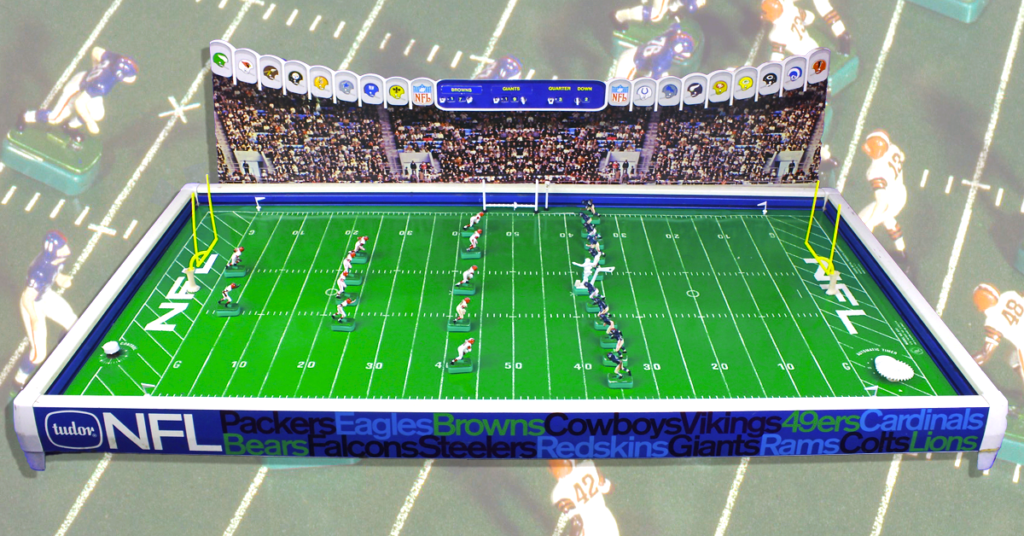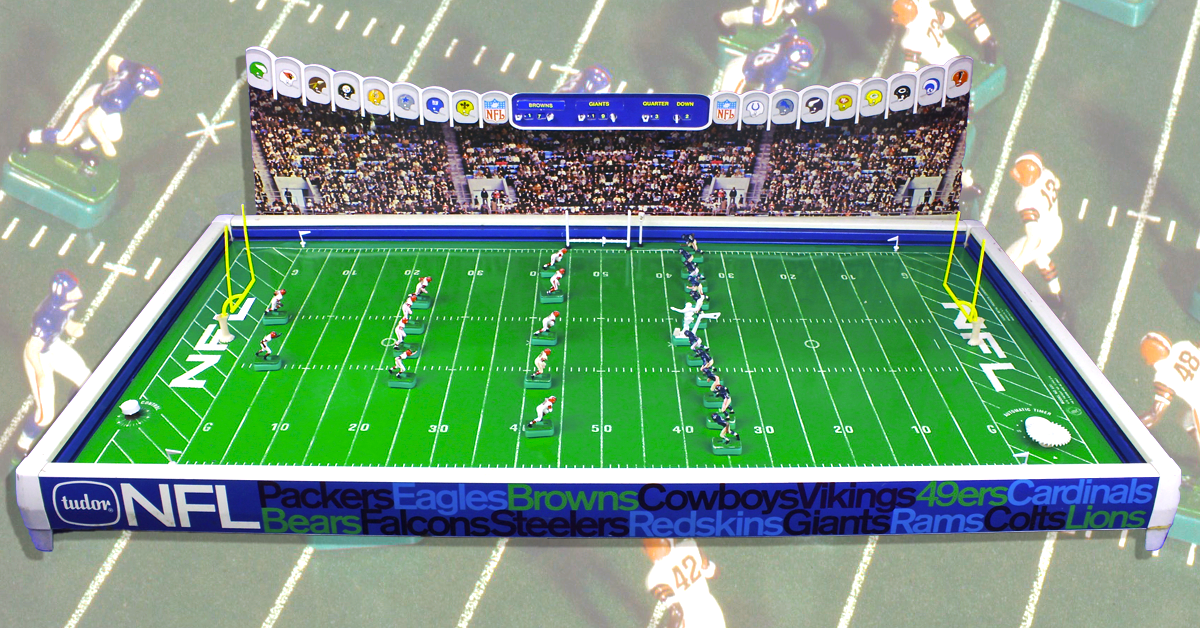 Our Electric Football Top 20 Countdown concludes with Game No. 1 — the 1967 Tudor NFL No. 620 with the Browns and Giants.
There are more colorful Electric Football games, there are more elaborate Electric Football games, and as we've seen in our Top 20 Countdown there are even Electric Football games that recreate some of Pro Football's greatest moments…but there is only one Tudor "Grass Field" NFL No. 620.
Tudor made the Giants-Browns No. 620 from 1967-69, and we think that any game from the that period IS very special. But for our countdown we're picking the 1967 No. 620. This initial version came with some unique features that clearly distinguish it from later models.
The reason the No. 620 comes in at No. 1, ahead of Electric Football games that seemingly have much "more" to offer, is simple: Whenever we've displayed a No. 620 at an Electric Football event — and this covers a period stretching from the first Miggle Convention in 1996 to TudorCon in 2014 — it's always the game we spend the most time standing over.
It generates the most conversations, the most recollections, as well as the most looks of wonder as middle-aged men instantaneously become boys, being magically transported back to the moment when they first saw a Browns-Giants No. 620. It might have been a neighbor's game, a brother's game, their own game, on a toy store shelf, or even just the photo in the Tudor Rule Book. No other Electric Football game generates the same reaction. It's not even close.
The No. 620 is the benchmark of benchmarks in Electric Football. 1967 was Tudor's first year with the NFL license, and they were determined to make a big impact with their brand new NFL line. Since Gotham had been making and selling NFL-licensed Electric Football games since 1961, an NFL model wasn't necessarily a new thing. But Norman Sas and Lee Payne had the motivation, talent, and business acumen to design something that seemed totally new. (See Chapter 18 of The Unforgettable Buzz for the full story of how Tudor unseated Gotham as the NFL's Electric Football licensee).
The No. 620 was really Tudor's Apollo 11 moon landing. So many of the concepts they had been working on and refining since 1961 all came to full bloom on the No. 620. In continuing the NASA theme, Tudor had already "put a man in orbit" when they created the large Sports Classic model in 1962. They then "walked in space" through their commitment to player painting, and then "performed a docking maneuver" when Lee Payne converted a Gorilla base into a prototype with a clip that allowed a painted player to slide on and off.  Finally, Tudor "orbited the moon" by showing the NFL how innovative the company could be with the 1966 Ward "Accordion" game.
So most of the pieces for the No. 620 where in already in place when Tudor received official word from the NFL that it had won the NFL license for 1967. But Tudor still had the herculean task of producing and painting mass quantities of miniature NFL and AFL teams, which fell to a creative and very capable business associate in Hong Kong named Albert Sung. Throughout late 1966 and into early 1967, Sung oversaw the entire task of painting 32 NFL teams (16 teams in both dark and light jersey) and 9 different AFL teams (dark jersey only). He also had to make sure there were enough Browns and Giants to go into the new No. 620 models.
Back in Brooklyn, Payne concluded that metal vibrated better than fiberboard, and he had begun working on a metal field that was strong enough for Tudor's 36" x 21" frame. Payne also had some other tweaks and special innovations that would elevate the No. 620 to "masterpiece" status.
We've taken a lot of time to lay out the back story of the No. 620 because it is all part of the game's "greatness." So many brand new pieces — metal fields, new players, new Hong Kong production and painting operations, design approvals from the NFL — all had to come together seamlessly. If any one of these new features failed, or a production deadline was missed, it would have jeopardized Tudor's NFL debut. But, as usual, Tudor pulled it off.
We've talked a lot about "firsts" during the Countdown, and the No. 620 has some of the most notable firsts of all time.
1) First painted NFL teams, the Browns and Giants.
2) First large Electric Football game with a metal field.
3) First NFL markings on an Electric Football field with the "NFL" in each end zone (some Gotham games did have an NFL shield on their sidelines, but it was not in the field of play).
4) First single-posted slingshot style goal post, colored in Official NFL gold no less.
5) First fabric goal post pads
6) First clip-on grandstand
7) First grandstand crowd photo of an actual NFL stadium (Atlanta).
Breaking down all these firsts almost diminishes the game because it was the combined impact of all of these features that blew us away. The white markings on the green field just draw you in — you can almost smell the grass. And then there's the giant letters in the end zones "N-F-L." Rising majestically from the "F's" are two modern "NFL gold" slingshot-style goal post… arguably the most realistic Electric Football goal posts ever commercially produced.
The field is surrounded dramatically by a blue interior frame border, and this same blue fills the front and back of the outer frame, which both display NFL in bold white letters, as well as 15 NFL team names (missing are the expansion Saints). The outer frame ends are red and display 9 NFL team names (including the Saints). Add in the white frame corners and white frame "lip," and it's clear that Payne purposely duplicated the red-white-and blue color scheme of the NFL shield.
Tudor also included their largest ever grandstand, which happened to be their first clip-on model. The interchangeable nameplates weren't new (Tudor had them on their Accordion No. 600), but it was the first time Tudor could use actual NFL team names. Peering out from under a facade of colorful NFL helmets was a highly detailed Atlanta Stadium photo taken by, who else, Lee Payne. There was no question that it was the most realistic "crowd" in Electric Football history.
Finally, onto one of the special features of the 1967 No. 620 — the Browns and Giants were of the Big/Large variety. So not only were the players slightly larger and more physically detailed than the players that would appear on 1968 and 1969 No. 620's, they had more details in their painting. For the Browns, both their socks and sleeves would have the distinctive and realistic triple-stripe pattern. And the Giants would have two white vertical dashes on their helmet to mimic their distinctive "NY" (later Giants would simply have a white dot).
Next, these players were sitting on Tudor's aqua color bases, which at various times in Electric Football history have been viewed as "prized" finds, due to the speed and strength they show on the vibrating gridiron.
And finally, the feature that truly separates the 1967 version from all others — the field. In this first year of production the metal of the frame and field is noticeably more substantial than No. 620's from 1968-69. In fact, Tudor used a double-fold in the frame wall which gives both the frame and field added support and strength. (ALL subsequent Tudor 610 and 620 models only have a single frame fold). The field is "tight," with very little "crown" or flex to it. The result is, a field that Electric Football aficionados consider to be the truest vibrating surface that Tudor ever created.
We think the "power" of the No. 620 is summed up by a story Sean Davis told to us last year at TudorCon 14… while we were all standing over a No. 620. At 3-years-old he desperately wanted to play with his older brother's No. 620 game. But needless to say, the brother and his friends didn't think Sean was ready for Electric Football. Eventually, they allowed Sean to be part of their games, letting him switch the game on and off for each play. There was just one catch. The switch had a short in it — Sean got shocked every time he flicked it! But did that stop him from with playing the No. 620? Of course not. "I thought it was part of the game," Sean said with a laugh. And decades later he was in Philadelphia competing at TudorCON 14.
A story like Sean's is why we love Electric Football, and why we love the No. 620. We can easily see ourselves continuing to put our miniature NFL's into action even if we got shocked every time we turned the game on and off. That's how strongly the No. 620 grabbed us. Like moths to a flame, it hit us on a primal level.
So in concluding our Top 20 Countdown…we hope that everyone has found their "own" No. 620. There are so many great games, over such a range of time, that we know the "No. 620 moment" is different for everybody. And that's what makes Electric Football so much fun, and such a great hobby. There is truly something for everybody. We've had so much fun doing this Countdown, and we're so grateful to everyone of you who have followed along all these weeks. We hope it's been fun for you too.
Many, many thanks!
Earl, Roddy, & MK