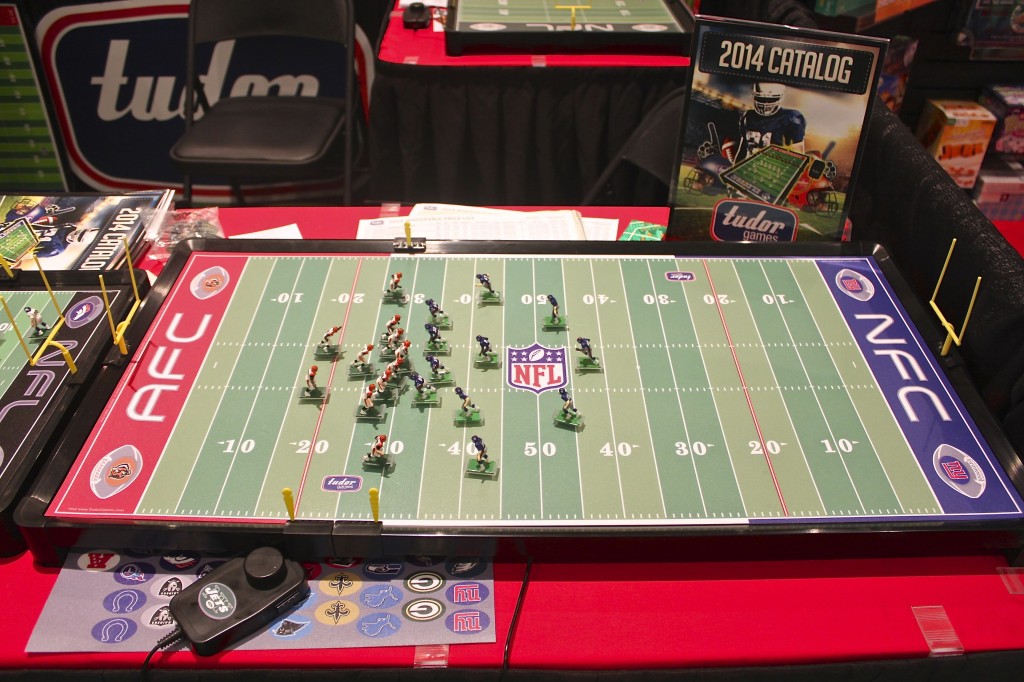 It's official! Tudor Games has announced that it's reclaimed the NFL license for Electric Football!
Tudor Games' President Doug Strohm broke the news on Friday, August 1, at 12:00 am EST . For the fall of 2014 there will official NFL Electric Football games and NFL Electric Football teams. In fact they're already up on the Tudor Games website!
This is one of the all-time milestones in the history of Electric Football. Doug Strohm has worked diligently over the last two years to bring the NFL license back to Electric Football.  It's not easy to return to the fold of NFL Properties, especially after a 7-year absence. Once a licensee has missed the NFL's "cut" — as happened to Miggle Toys with Electric Football in 2007 — it usually doesn't get a second chance.
Undoubtedly the long and storied relationship between Tudor Games and the NFL — which we recount in The Unforgettable Buzz — helped the league reconsider the value of Electric Football to the NFL brand. In fact, we have it on good authority that NFL Properties had a copy of The Unforgettable Buzz in their possession during the licensing negotiations. That our work may have played any part in helping the NFL grasp how deep the roots of the NFL-Tudor relationship go…it's very humbling. A scenario we never dreamed of during the writing of The Unforgettable Buzz.
For all of us in Electric Football, we need to take a deep breath and truly savor what Tudor Games and Doug Strohm have done in returning the NFL to our game. It really is against the odds that a 65-year-old toy would make a "comeback." But that's exactly what Electric Football is doing in 2014.
So here's a giant "Thank You" to Doug and Tudor — it's Christmas morning in August!
Earl, Roddy & Michael