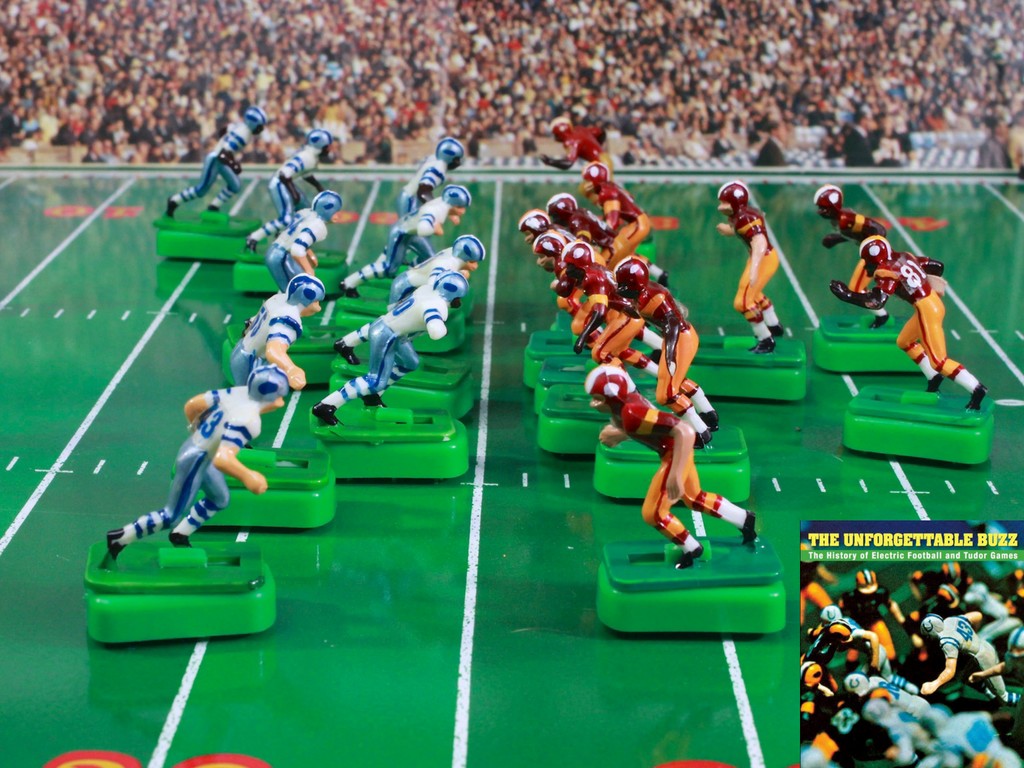 Electric football and Thanksgiving Day go together in many ways, but the most interesting way was the "looking forward" part of the holiday. What we mean is, Thanksgiving Day always signaled the beginning of the Christmas shopping season. It was time to get serious about "being good" to make sure that coveted electric football game would show up on Christmas morning.
It was also the time when you started thinking seriously about the game you wanted. You would actually let your thoughts drift to what it would be like on Christmas morning, setting up your teams, and then flicking the switch for the first time. It would be a moment like no other…and one that a lot us still remember today. But this fixation and anticipation would usually start on the Thanksgiving Day weekend.
Helping stoke that anticipation was the once rare Thursday NFL game. For a couple of years in the late 1960's we even had the choice of two NFL games and two AFL games to watch on Thanksgiving Day.
The DuMont Network aired the first nationally televised Thanksgiving Day NFL contest in 1951 (a coaxial cable connecting television stations on the East and West Coast had just come online in September). It was a matchup between the Lions and Packers, a Thanksgiving pairing that would stay together until 1964. Then things loosened up a bit, although the Lions remained the featured home team. The Cowboys got their Thanksgiving Day spot in 1966, and both teams have held their Thursday holiday places ever since.
We're going with Cowboys-Redskins this weekend. The on-field matchup is intriguing and has playoff consequences for both teams. So it should be an intense battle – and this is even before adding on the traditional Cowboys-Redskins historical baggage.
And in electric football we've got two nicely painted Haiti teams to give the matchup some real detailed shine. Also the Haiti teams harken back to the era when second-string rookie QB Clint Longley rallied the Cowboys for a 24-23 comeback over the Redskins. So it's all pretty fitting. Hopefully the real game will be half as riveting as that long ago Cowboys-Redskins contest.
From all of us at The Unforgettable Buzz we wish you a very enjoyable and safe holiday.
Earl, Roddy, and Michael