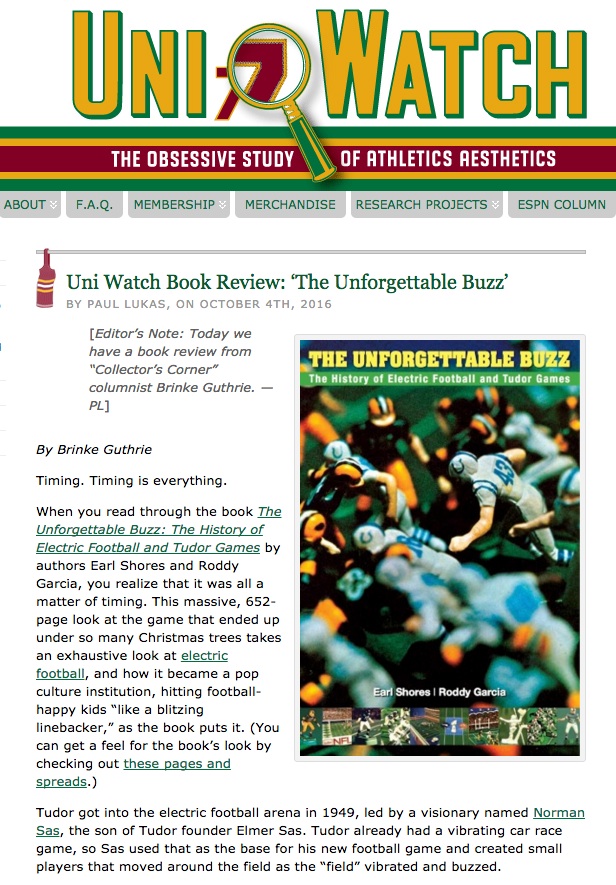 We are big fans of the web site Uni Watch, which, as its name implies, keeps a watch on sports uniforms both old and new. Their subtitle, "The Obsessive Study Of Athletic Aesthetics," means they sweat the details of what makes a good or bad look in sports uniforms and sports memorabilia.
They've also featured our books The Unforgettable Buzz and Full Color Electric Football in previous web posts, giving both positive feedback and much welcomed visibility. We really feel like Uni Watch is a perfect audience for the historical aspects of Electric Football.
So we're proud and blown away by this wonderful review of The Unforgettable Buzz posted on Uni Watch last month. It was written by Collector's Corner columnist Brinke Guthrie, who not only read the entire book —the Kindle version — he clearly "got" and thoroughly understood the amazing story we're trying to tell.
Electric Football history has so many layers, and few of the game's major events or inventions took place in a vacuum. There were reasons, either external or internal, for why things happened in Electric Football. That's what makes the history of game so incredibly fascinating. (For example, Tudor's success with the No. 500 model in the early 1950's enticed Gotham into making their own version of Electric Football in 1954.)
Mr. Guthrie even offered up the best one line summation of The Unforgettable Buzz we're ever heard — "Timing is everything."
With that in mind, please take the time to go over to Uni Watch and read the entire review. It is worth it. Thanks so much Uni Watch!!